Creating Enduring Behavior Change
The Power to Improve Lives

The Behavior Change for Good Initiative unites a world-class, interdisciplinary team of academic experts with leading organizational partners to help advance the science and practice of behavior change. We identify what works at scale by conducting mega-studies (massive random-assignment A/B tests), in which we simultaneously test our Scientific Team's best ideas for changing a target behavior. Our approach gives us the power to understand which strategies work best overall, what works best for whom, and how to most effectively use behavioral science to transform people's lives for the better.
A New Method for Conducting Social Science Research at Scale: The Megastudy
Megastudies improve the impact of applied behavioural science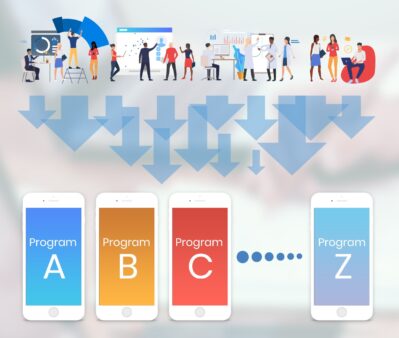 A paper introducing BCFG's pioneering approach to conducting behavioral science research at scale using "megastudies" was recently published in Nature. A megastudy is a massive field experiment in which many interventions are evaluated simultaneously on the same objective outcome in the same population. The megastudy approach allows dozens of ideas proposed by a diverse array of scientists to be tested at once, making direct, "apples-to-apples" comparisons among different strategies for spurring behavior change possible. This approach can accelerate the speed at which knowledge is generated and more effectively and efficiently inform policy decisions than standard social science research methods.
We partnered with 24 Hour Fitness (a large U.S. gym chain) on the megastudy featured in this paper. Our study involved a 4-week digital program aimed at encouraging exercise among 61,293 gym members. Independent teams of 30 scientists from 15 U.S. universities designed 54 different versions of the program, which comprised the different interventions we tested to boost gymgoing. Forty-five percent of the different, 4-week digital programs tested significantly increased weekly gym visits during the 4-week intervention period. The top-performing intervention increased weekly gym visits by 27% by encouraging gym goers not to miss more than two planned gym visits in a row (if they missed one, they could then earn a nine cent bonus for returning to the gym and avoiding a second missed visit). Importantly, impartial judges—public health experts, behavioral science practitioners, and lay people—were unable to predict which program designs would be most effective at spurring physical activity. These findings reinforce the importance of simultaneously testing many ideas to identify which strategies work best for changing behavior.
We created a toolkit for encouraging vaccine adoption (with a focus on COVID-19), which summarizes the main take-aways from BCFG's megastudies on nudging flu vaccination uptake with a guide for implementation.
In response to the COVID-19 pandemic, BCFG asked our talented team of 100+ behavioral scientists to provide their tips for encouraging masking-wearing, which we complied into an easy-to-read flyer.