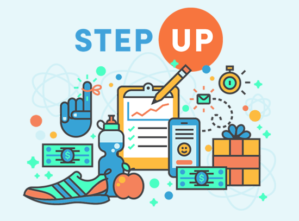 The StepUp Program
StepUp is a free habit building, science-based workout program developed by Behavior Change for Good. The program is being launched in partnership with 24 Hour Fitness.
The program runs for 28 days and involves rewards, customized texts, and other content designed to identify what works best for creating lasting gym habits. StepUp was created by a team of 47 world-renowned scientists spanning economics, psychology, computer science, medicine, neuroscience and sociology, united by the common goals of furthering the science of enduring behavior change and improving people's daily health decisions.
If you're a member of 24 Hour Fitness, you can join here: https://24go.co/stepup. If you have friends or family who are 24 Hour Fitness members, let them know they can join the StepUp Program today!